Karisma Records have set the 12th June as the release date for "Madness and Magic" the seventh full-length album from Prog Rockers ARABS IN ASPIC.
A video teaser for "Madness and Magic" can be seen below:
Commenting on the album, the band had this to say:
"Madness and Magic"  is the first Arabs in Aspic album written for two drummers, with more acoustic guitar parts than previous albums. All the music was written and arranged in our studio and carefully put together like a puzzle with 50,000 pieces, to take the listener on a journey through life's "Madness and Magic", both musically and lyrically. 

The lyrics for "Madness and Magic" reflect on how easily both children and adults are affected in the digital age, but also how helpless we are when we have to put our lives in the hands of specialists. Many ideas came up after a brief meeting with Doctor Death. The message of "Madness and Magic" is up to the listener to decide. For you are capable of thinking for yourself, right?
Karisma Records have today released the single "I Vow to Thee, My Screen", which is the opening track from the album. According to the band, the song "describes the fascination and fear of our addiction to being entertained. The lyrics are heavily inspired by the British patriotic hymn, "I Vow to Thee, my Country," written by Cecil Spring-Rice in 1918".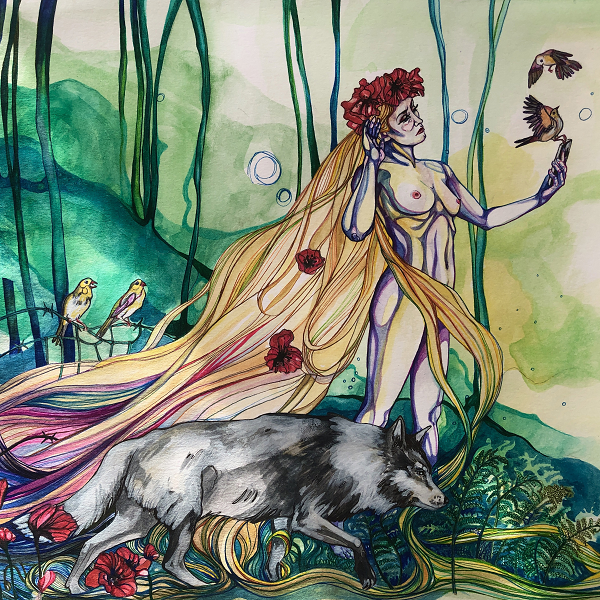 Arabs In Aspic
"Madness and Magic"
(KARISMA RECORDS)
1. I Vow to Thee, My Screen
2. Lullaby for Modern Kids, Part 1
3. Lullaby for Modern Kids, Part 2
4. High-Tech Parent
5. Madness and Magic
6. Heaven in Your Eye
"Madness and Magic" will be available in CD, Vinyl and Digital formats, and with artwork by Julia Proszowska.
With their musical roots embedded in what is known as the "Golden Era" of rock, and hailing from Trondheim in Norway, ARABS IN ASPIC form an ensemble of musicians whose playing includes aspects classic rock, funk, pop, prog, heavy rock, bossanova, a capella.
ARABS IN ASPIC will bring their distinctive sound, which can be described as "a sweet mixture of loud, heavy guitars and drums, 12 string acoustics, funky bass and percussion, screaming Hammond organs, soft Rhodes, Mellotrons and 70's Synths, topped with plentiful vocal harmonies", to the John Dee in Oslo on the 13 June when they celebrate the release of "Madness and Magic", along with support THE FLYING NORSEMEN. Details of the event can be found on Facebook and meanwhile check out ARABS IN ASPIC live video.
About ARABS IN ASPIC :
Lineup:
Jostein Smeby – Guitars + vocals
Stig Jørgensen – Organs + vocals
Erik Paulsen – Bass + vocals
Eskil Nyhus – Drums + cymbals
Alessandro G. Elide – Percussion + gongs
Managing Editor: Elsa Marques
Comments
comments